If you're looking to drive traffic to your website, then you've probably heard about Search Engine Optimization (SEO). Basically, when you optimize your website with the right keywords, you make it more attractive for search engines. This will result in increased Search Engine Rankings (SER), meaning your website will appear higher in search results. In turn, this will produce more traffic.
At the same time, however, there are over 1.6 billion active websites at any given moment. Given how crowded the World Wide Web is, it can be hard to stand out. Even well-written, compelling content can end up buried in the back pages of Google. So how can you stand out and rise to the top of the search results?
You can start by targeting long-tail keywords, which three to four keyword phrases specific to your business. We've gone over this strategy at length in another blog post. Today, we want to focus on long-tail keywords with geographical indicators, such as country, state, landmarks, and town names.
By using so-called "geo-targeting", you can target long tail keywords and should be able to increase your page rankings and drive more traffic to your website. In this article, we'll explain why geo-targeting works and how you can find relevant geographical indicators.
Using Geographical Indicators to Craft Effective Long Tail Keywords
When you use geographical indicators, you can effectively shrink the market you are competing in. Instead of having to compete with websites and companies across the globe, you can compete in localized markets. By going local, you'll often find yourself competing with local firms instead of big international companies.
Let's examine why geographical indicators are important and also how you can use an SEO planning tool to uncover keywords that include geographical indicators.
Why Google Pays Attention to Geographical Indicators
What's the main goal of a search engine? Think about that for a second. If you answered "to serve up the best and most relevant search results", then you got it right. The entire point of Google Search, Microsoft Bing, DuckDuckGo, and any other search engine is to provide users with relevant, high-quality search results. Often, this means going local.
Let's do a short thought experiment. Let's say you're in Atlanta, Georgia and you're searching for the "best coffee shop." You conduct a search and the top result is an award-winning, highly rated coffee shop. You click on the link and are amazed by the photographs on the website. You can't believe this place is in town! Then you see the address and realize it's in New York City.
Is that relevant for you? Unless you have an upcoming trip to NYC planned, probably not. That's why Google won't even bother showing you a coffee shop from New York. Instead, you'll automatically get results from the greater Atlanta area. Take a look at the results below. Not only does Google show you some of the best coffee shops in the area, but it also provides a map!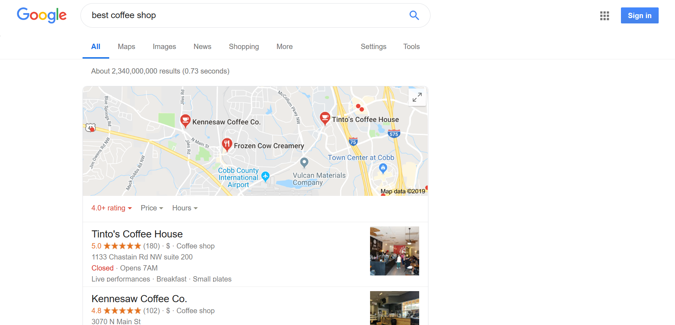 If you scroll down through the search results, you'll see links to articles entitled "Atlanta's Best Coffee Shops", "9 Best Coffee Shops in Atlanta", and the like. As you dig through the pages, you'll also find links to coffee shops located around Atlanta. Google provides localized results because Google's engineers know that you're most likely looking for local results.
For this reason alone, geographical keywords are important. However, there's another important reason to pay attention to geographical keywords: search engine users often use geographical terms to narrow results down further. Let's take a look.
Users Narrow Down Results With Geographical Terms
If you've ever been to Atlanta, then you know that the metropolitan area is a vast, sprawling area. There are multiple neighborhoods and suburban cities. And if you're looking for a coffee shop, you probably want one in your neighborhood as you could easily spend an hour stuck in traffic, trying to get across town.
Google does try to pare down results based on your location. However, many users take it a step further and include a more specific geographical indicator, such as "midtown", "downtown", or "Decatur." Once you include this term, Google narrows the results down to those areas. You can see that all of the coffee shops listed below are in "downtown Atlanta":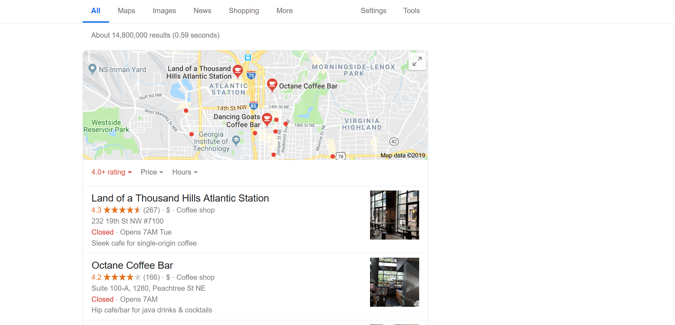 We pulled up these results by using the long-tail keywords "coffee shop downtown Atlanta." Many users will use similar long-tail keywords when searching for local goods and services. Fortunately, you can find these long tail geographical keywords with keyword targeting tools like Keyword Revealer.
By Targeting Geographical Keywords, You Can Draw Google's Attention
By using long-tail keywords and geo-targeting, you can increase your chances of turning up in search results. When you use geographical indicators, you're indicating to Google that "this is my market". Since Google is trying to provide relevant results, the search engine will pay more attention to you when users either search from your area or use a geographical indicator.
You can even get more specific than city-level. You could mention a local university, for example. Or you could cite a nearby landmark, such as "Piedmont Park". The more specific your relevant geographical indicators are, the better.
Geo-targeting works not just for coffee shops but essentially all brick and mortar businesses and other services. Whether you're a plumber, lawn-care company, dentist, or business coach, Google cares about geography (because users will care). When a search engine user types in a keyword, Google will consider whether geography is important and if relevant the search engine will return localized results.
So can you just start peppering your city name in your content and other places? Yes, and you'll improve your page rankings for those keywords. However, you can juice your efforts by using a keyword planning tool like Keyword Revealer. Let's go over how our keyword research tool works.
Using Keyword Revealer to Unveil the Best Keywords to Target
Sticking with our coffee shop example, you could simply pepper "Atlanta" around on your website. That's not a bad idea, but with a keyword planning tool like Keyword Revealer, you can do a whole lot more. Our SEO research tool will allow you to find the best keywords to target. Let's see how.
First, we'll pull up the results for "best coffee shop Atlanta":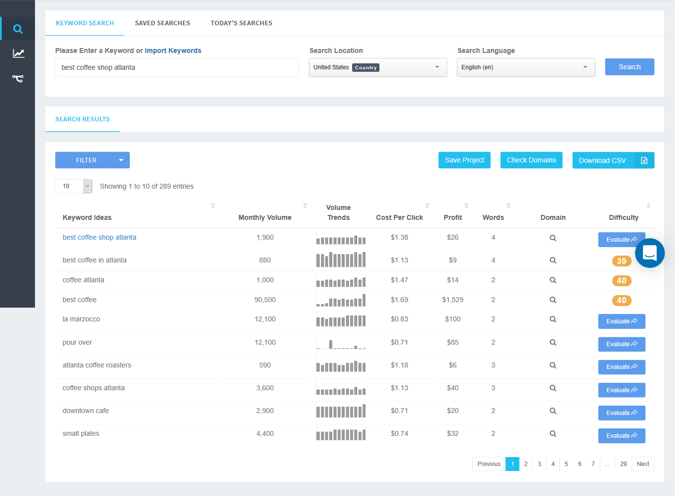 As we dig further into the data, we'll find unique opportunities. For example, "best coffee shop Atlanta" is only moderately competitive. By using this term frequently, you should be able to rank well.
We also find a lot of other unique opportunities that you might not think of. For example, "pour over." These days, pour over coffee is all the rage, so if you mention that you have the "best pour over coffee in Atlanta" you may be able to secure some traffic.

Likewise, you might mention "downtown cafe" or that you use the finest coffees from "Atlanta coffee roasters." By targeting these long tail geographical terms, you'll be able to stand out in a crowded market. With Keyword Revealer, we'll not only provide longtail keyword ideas but also the competitiveness of each term and how many times it's searched per month.
That way, you can target the long tail keywords that are most likely to improve your page rankings and drive traffic to your business.
Conclusion: Use Geographical Indicators and a Keyword Planning Tool
If you want to increase your search engine rankings, you should use a keyword planning tool, like Keyword Revealer, to find the best long tail keywords. And as you craft your keyword strategy, you should pay close attention to geographical indicators. By doing so, you'll be able to increase your search engine rankings and drive more traffic to your site.